Near-Infrared (NIR) Fluorescent Imaging
Creative Diagnostics offers custom NIR fluorescent imaging contrast agents with ideal optical properties. With years of expertise in diagnosis and imaging contrast agents development, our experienced scientists can construct both organic and inorganic nanoparticles fluorophores for NIR fluorescent imaging.
The NIR region (700-1100 nm) falls in the region of the spectrum with the lowest absorption in tissue and therefore enables the deepest tissue penetration. Conventional organic NIR contrast agents suffer from rapid photobleaching, nonspecific adsorption of proteins, and biological degradation. Due to their exceptional fluorescence brightness and stability, inorganic nanoparticles based NIR contrast agents have been extensively investigated. These nanoparticles include semiconductor quantum dots (QDs), gold nanoshells, as well as dye-encapsulating nanoparticles.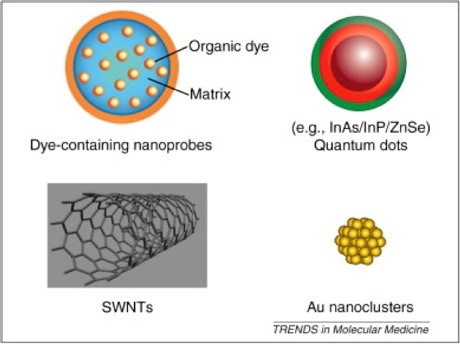 Multifunctional nanoparticles can be constructed by combining other imaging modality or therapeutic agents to the NIR fluorescent nanoparticles. Additionally, when the nanoparticles are functionalized with specific targeting molecules, subsequent therapy can be guided by the simultaneous imaging process.
Creative Diagnostics is proficient in nanoparticles preparation and imaging contrast agents development. We provide high quality NIR fluorescent nanoparticles with excellent optical performance and stability. Nanoparticles conjugation services are also available to make multifunctional contrast agents for target-specific imaging, multimodal imaging, as well as simultaneous diagnosis and therapy for your unique requirements.
Please do not hesitate to contact us if you need free consultation and a detailed quotation of your project. Our customer service representatives are available 24 hours a day, from Monday to Sunday.