Creative Diagnostics offers target-specific MRI contrast agents based on both gadolinium-chelate and iron oxide nanoparticles. Scientists in Creative Diagnostics are proficient in design targeted nanoparticles as contrast agents for preclinical MRI. In addition, multimodal imaging contrast probes for MRI-optical and MRI-PET can be constructed to fit for your unique requirement.
Gadolinium is the most well-known MRI contrast agent. However, the application of small molecular Gd-chelates is limited by its relatively low relaxivities. Incorporating Gd-chelate into polymers, dendrimers or nanoparticles can overcome this limitation.
On the other hand, iron oxide nanoparticles are the most prominent probes for MRI due to their tunable properties such as magnetism, size, and facile conjugation with biomolecules. Iron oxide nanoparticles can also conjugate with other imaging motifs such as fluorescent molecules and radioisotopes, to make multimodal imaging systems (Figure 1).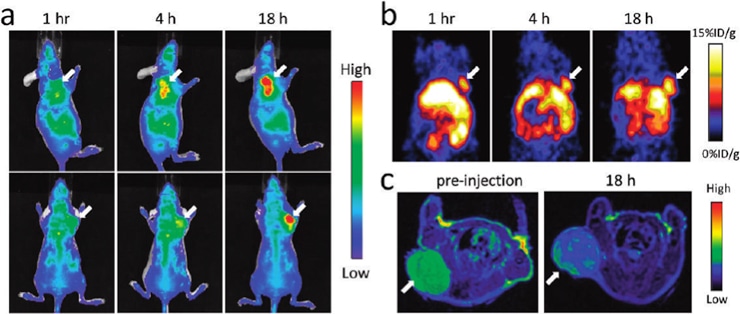 Figure 1. MRI-opticla-PET trimodal imging (a, optical; b, PET; c, MRI) with human serum albumin coated SIONPs conjugated with both 64Cu-DOTA and Cy5.5.
Based on years of experience on diagnosis and imaging contrast agents development, our staff scientists can fine-tune the physical parameters of the size, shape, crystallinity, and magnetism of nanoparticles to improve their performance in MRI. Additionally, Creative Diagnostics offers multimodal imaging probes by combining iron oxide nanoparticles with fluorescent probes, PET probes, and ultrasound probes to improve diagnostic quality.
Reference
Xie J., Liu G., Eden H.S., Ai H., Chen X. Surface-engineered magnetic nanoparticle platforms for cancer imaging and therapy. Acc Chem Res. 2011, 44, 883-892.
Please do not hesitate to contact us if you need free consultation and a detailed quotation of your project. Our customer service representatives are available 24 hours a day, from Monday to Sunday.