Creative Diagnostics offers custom services for magnetic beads modification, including surface coating and functionalization. Our experienced scientists are proficient in coating magnetic beads with various materials including silane, gold and polymers. For polymers, we have PEG, chitosan, dextran, PEI, as well as copolymers.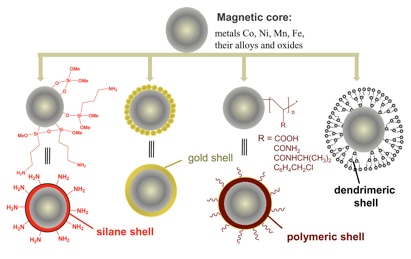 Figure 1. Magnetic nanoparticles coated with various shells
Our magnetic beads modification service ensures:
• Low in beads agglomeration
• High dispersity
• Various active groups, including amine, carboxyl, sulfhydryl, aldehyde, and active hydrogen functional groups.
• Highly improved conjugation with a wide variety of affinity ligands, such as antibody, biotin, streptavidin, lectin, protein A/G.
Creative Diagnostics is one of the leading suppliers for immunoassay products and services. With our experienced Ph.D level scientists and project managers, we deliver the highest quality of service that suits your specific request and research objectives in good time and budget.
To discuss your Immunomagnetic Beads Modification Service demands or to request a proposal, please contact us by .
Please do not hesitate to contact us if you need free consultation and a detailed quotation of your project. Our customer service representatives are available 24 hours a day, from Monday to Sunday.