Magnetic Beads Bioconjugation
Creative Diagnostics offers magnetic beads conjugation services with a large variety of biomolecules. Scientists from Creative Diagnostics are proficient in chemical conjugation of biomolecules to magnetic beads with optimized linkage strategies.
With years of experience in immunomagnetic beads preparation and application, we offer the most extensive range of magnetic beads bioconjugation services optimized for your unique requirements. Our exceptional team of scientists can conjugate magnetic beads with a wide range of biomolecules such as antibodies, biotin, streptavidin, lectin, protein A/G, and any other molecules of your interest.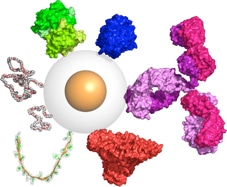 Magnetic beads bioconjugation can be designed to fit your research objectives. Our wealth of knowledge allows us to conjugate biomolecules to magnetic particles efficiently and reproducibly, without compromising the functionality of biomolecules once attached.
Our technical data contain:
• Hydrodynamic size and zeta-potential (before and after conjugation)
• TEM image of the particles (before and after conjugation)
• Electrophoresis gel to identify the successful conjugation
To discuss your Immunomagnetic Beads Bioconjugation Service demands or to request a proposal, please contact us by .
Please do not hesitate to contact us if you need free consultation and a detailed quotation of your project. Our customer service representatives are available 24 hours a day, from Monday to Sunday.