Immobilization of Antibody on Macro Carriers
Creative Diagnostics provides custom services for oriented antibody immobilization on macro carriers including plates, balls and tubes. Most macro carriers used in immunoassay are made of polystyrene, a kind of hydrophobic polymer.
Generally used antibody immobilization methods are physical adsorption, which is non-oriented immobilization. Random antibody immobilization occurs in the hydrophobic surface of the polystyrene macro carriers, which can cause considerable denaturation of the adsorbed antibodies. Creative Diagnostics offers oriented antibody immobilization on macro carriers to maintain the activity of immobilized antibody with our state-of-the-art techniques.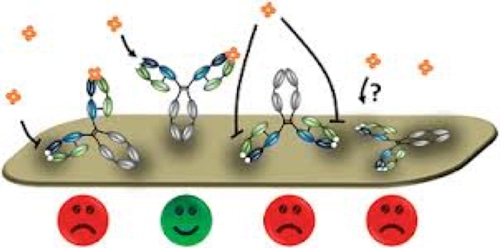 Direct Antibody Immobilization on Micro Carriers
One of our most advanced technologies is oxidation of carbohydrate residues in the Fc fragment of antibodies to aldehyde group. The aldehyde groups are allowed to react with hydrazine or hydrazide groups on the surface of macro carriers.
We also provide antibody immobilization through the sulfhydryl groups. Free sulfhydryl groups generated during the production of antibody Fab fragments can be used to couple antibodies to carriers with appropriate activation chemistry.
Antibody Immobilization on Micro Carriers with Protein A and G
Protein A and G are antibody-binding proteins which have a high affinity for the Fc region of some antibodies, especially IgG. Antibody can be adsorbed to protein A or G immobilized on the macro carriers. This immobilization strategy avoids interfering with the antigen binding site on the Fab fragment, and results a controlled and homogeneous orientation of the immobilized antibody.
Please do not hesitate to contact us if you need free consultation and a detailed quotation of your project. Our customer service representatives are available 24 hours a day, from Monday to Sunday.