Creative Diagnostics offers Custom Imaging Contrast Agents based on nanoparticles for preclinical imaging in small animals. These contrast agents cover the principle diagnostic modalities including magnetic resonance imaging (MRI), near-infrared (NIR) fluorescent imaging, ultrasound imaging, and computed tomography (CT).
Nanoparticles have been extensively explored as imaging contrast agents due to unique electrical, magnetic, and optical properties. The most widely used nanoparticles include semiconductor quantum dots, magnetic nanoparticles, and gold nanoparticles. Nanoparticles based contrast agents are advantageous in high-resolution imaging, prolonged circulation times, as well as specific targeting compared with conventional contrast agents.
Each current imaging modality has unique advantages as well as intrinsic limitations, such as insufficient sensitivity or spatial resolution. Combination of different imaging modalities can improve diagnostic quality, which is a powerful method to provide more reliable and accurate detection of disease sites. Multifunctional nanoparticles can be constructed by combining multiple imaging modalities into a single nanoparticle, to make CT-PET, MRI-PET MRI-PET-optical imaging.
In addition, multifunctional nanoparticles can also be used for theranostics, which is defined as a combination of therapeutic and diagnostic imaging capabilities in a single agent. Multifunctional nanoparticles loading both imaging and therapeutic agents enable simultaneous imaging and therapy. This may overcome the hurdles of traditional diagnosis and therapy through optimized therapy called 'personalized medicine'.
Key Features
• Nanoparticles based contrast agents
• Target-specific imaging
• Multimaodal imaging
• Theranostics platform for simultaneous imaging and therapy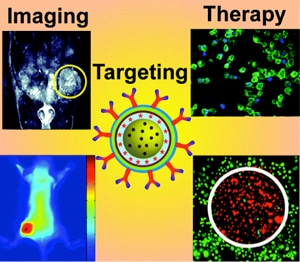 Based on years of experience on imaging contrast agents and nanomedicine development, Creative Diagnostics provides fine-tuned multifunctional nanoparticles for targeted multimodal imaging and theranostics agents for your unique preclinical purpose.
Please do not hesitate to contact us if you need free consultation and a detailed quotation of your project. Our customer service representatives are available 24 hours a day, from Monday to Sunday.