Magnetic beads based cell isolation has become the most widely used and versatile method for the purification and isolation of key cell populations including lymphocytes, stem cells, as well as circulating tumor cells. Creative Diagnostics offers custom cell isolation services to fit your needs in your most critical research requirements.
Magnetic cell sorting can be achieved either by positive or negative selection. Functional magnetic particles conjugated with antibodies corresponding to particular cell surface antigen are utilized to capture the interested cells. Then, the magnetic labeled cells can be separated from unlabeled cells in a magnetic field. Three main strategies can be applied for magnetic cell labeling: extrinsic labeling, intrinsic labeling, and cell internalization. With years of experience in immunomagnetic separation, our scientists are experts in various cell isolation by conventional magnetic-activated cell sorting (MACS) and microfluidic MACS (Figure 1).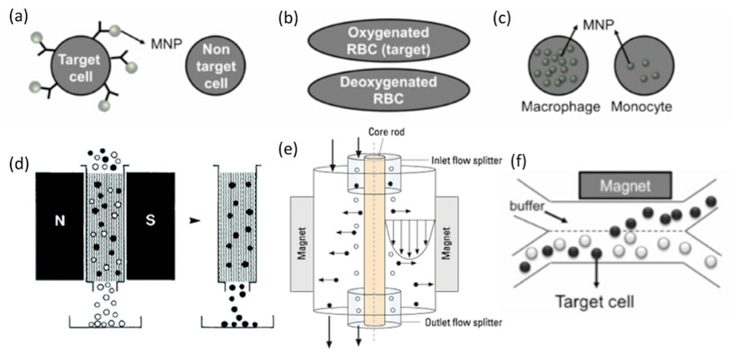 Figure 1. (a-c) Three labeling methods commonly used in magnetic cell separation. (a) Extrinsic magnetic bead labeling; (b) Intrinsic magnetic property of erythrocytes; (c) Endocytosis of magnetic nanoparticles. (d-f) Examples of different magnet designs used for cell sorting. (d) Conventional magnetic-activated cell sorting (MACS) platform; (e) Standard quadrupole magnetic flow sorting; (f) Deflection of magnetic moieties within a continuous stream flow.
With years of experience in immunoassay and immunomagnetic separation, Creative Diagnostics provides efficient and reliable custom cell isolation and purification, which includes, but is not limited to B cells, T cells, stem cells and other cells from various biological suspensions.
To discuss your Beads Based Isolation Service demands or to request a proposal, please contact us by .
Reference
Plouffe B.D., Murthy S.K., and Lewis L.H. Fundamentals and application of magnetic particles in cell isolation and enrichment: a review. Rep. Prog. Phys. 2015, 78, 016601.
Please do not hesitate to contact us if you need free consultation and a detailed quotation of your project. Our customer service representatives are available 24 hours a day, from Monday to Sunday.