Coloured Particles
Creative Diagnostics offers a wide size range of coloured particles in polystyrene matrix and silica matrix. Our coloured particles covalently bind or encapsulate dyes in red, blue, black and other colors which are prepared using internally-dyed technologies to prevent leakage and keep stable in aqueous media. They are modified with functional groups for conjugation of proteins, antibodies, oligonucleotides and other molecules. Polystyrene particles are also coupled with proteins like streptavidin, protein A/G and several kinds of secondary antibodies for specific conjugation. The coloured particles are suitable for visual or microscopic identification and qualitative and quantitative detection such as applications of imaging and diagnostic studies, immunoassays including flow investigations, membrane checks.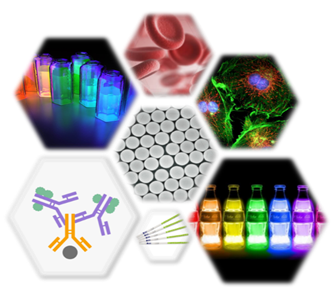 Advantages:
Vivid colors with high contrast ratio
Internal-dyed technologies, showing little or no leakage and availability for modification
Wide size range to meet varied needs
High reproducibility and stability
Monodisperse without agglomeration and aggregation
Applications:
Flow investigations
Membrane checks
Proteins coupling
Imaging and diagnostic studies
Please do not hesitate to contact us if you need free consultation and a detailed quotation of your project. Our customer service representatives are available 24 hours a day, from Monday to Sunday.