Silver Nanoparticles Conjugation Kits
Creative Diagnostics offers two different Silver Nanoparticles Conjugation Kits for conjugation of biomolecules to silver nanoparticles: Passive Adsorption Conjugation Kits and Covalent Conjugation Kits.
Our Passive Adsorption Kits utilizes the property of non-functionalized standard silver nanoparticles to readily adsorb proteins when the pH of the solution is at or close to the isoelectric point of the protein. This non-specific binding has some drawbacks such as desorption of the conjugated protein and disturbance of the tertiary protein structure. In contrast, our NHS-activated Silver Nanoparticles Conjugation Kits are ideal for high efficacy covalent conjugation of silver nanoparticles with antibodies and other primary amine-containing molecules. The covalent conjugation can avoid the drawbacks of passive adsorption and increase the stability of the conjugates. The conjugation kit is very convenient and only requires simple mixing of your protein of interest with the pre-activated silver nanoparticles in the kit.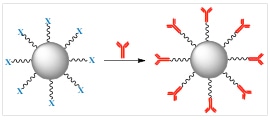 Custom conjugations are also available for your special antibodies, proteins, peptides, lectins, and other molecules. Please do not hesitate to contact us if you need free consultation and a detailed quotation of your project. Our customer service representatives are available 24 hours a day, from Monday to Sunday.
Advantages:
Covalent and stable conjugation
Fast one-step conjugation
Oriented conjugation of antibodies
Spacer between the silver nanoparticle and conjugated ligands
| Cat. No. | Description | Diameter | Absorption Max | Surface | Unit Size | Fluorophore | Add to basket |
| --- | --- | --- | --- | --- | --- | --- | --- |
| SCK-10 | Covalent Conjugation Kit | 10 nm | 390-400 nm | NHS | 3 reactions, 10 reactions | × | |
| SCK-100 | Covalent Conjugation Kit | 100 nm | 490 nm | NHS | 3 reactions, 10 reactions | × | |
| SCK-20 | Covalent Conjugation Kit | 20 nm | 405 nm | NHS | 3 reactions, 10 reactions | × | |
| SCK-30 | Covalent Conjugation Kit | 30 nm | 410 nm | NHS | 3 reactions, 10 reactions | × | |
| SCK-40 | Covalent Conjugation Kit | 40 nm | 416 nm | NHS | 3 reactions, 10 reactions | × | |
| SCK-50 | Covalent Conjugation Kit | 50 nm | 425 nm | NHS | 3 reactions, 10 reactions | × | |
| SCK-60 | Covalent Conjugation Kit | 60 nm | 430 nm | NHS | 3 reactions, 10 reactions | × | |
| SCK-80 | Covalent Conjugation Kit | 80 nm | 457 nm | NHS | 3 reactions, 10 reactions | × | |
| SCK-M-10 | Medium Covalent Conjugation Kit | 10 nm | 390-400 nm | NHS | Medium kit | × | |
| SCK-M-100 | Medium Covalent Conjugation Kit | 100 nm | 490 nm | NHS | Medium kit | × | |
| SCK-M-20 | Medium Covalent Conjugation Kit | 20 nm | 405 nm | NHS | Medium kit | × | |
| SCK-M-30 | Medium Covalent Conjugation Kit | 30 nm | 410 nm | NHS | Medium kit | × | |
| SCK-M-40 | Medium Covalent Conjugation Kit | 40 nm | 416 nm | NHS | Medium kit | × | |
| SCK-M-50 | Medium Covalent Conjugation Kit | 50 nm | 425 nm | NHS | Medium kit | × | |
| SCK-M-60 | Medium Covalent Conjugation Kit | 60 nm | 430 nm | NHS | Medium kit | × | |
| SCK-M-80 | Medium Covalent Conjugation Kit | 80 nm | 457 nm | NHS | Medium kit | × | |
| SPK-10 | Passive Conjugation Kit | 10 nm | 390-400 nm | Citrate | 100 mL | × | |
| SPK-20 | Passive Conjugation Kit | 20 nm | 405 nm | Citrate | 100 mL | × | |
| SPK-30 | Passive Conjugation Kit | 30 nm | 410 nm | Citrate | 100 mL | × | |
| SPK-40 | Passive Conjugation Kit | 40 nm | 416 nm | Citrate | 100 mL | × | |