Silica Magnetic Particles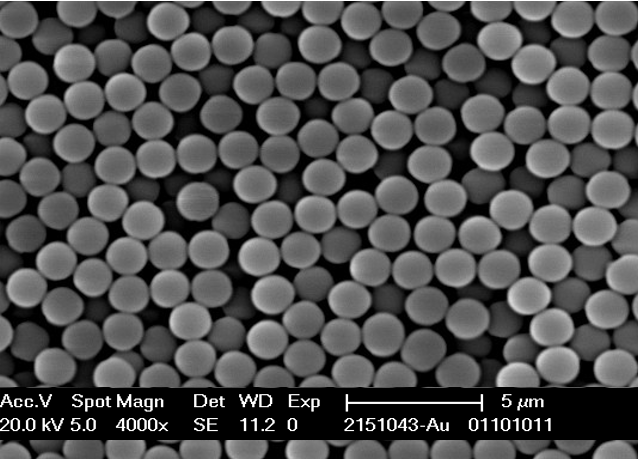 The DiagNano™ silica magnetic particles are produced by hydrolysis of orthosilicates in the presence of magnetite and have a hydrophilic surface with terminal Si-OH-bonds and can easily be separated with conventional permanent magnets. They are extremely stable in organic solvents and at high temperatures.
Silica coating not only contributes to the improved stability and prolonged shelf-life due to inertness of silica, but also facilitates the surface functionalization by providing various active reacting groups, including OH, NH2, COOH, SH, N-hydroxysuccinimide (NHS) and epoxy for the covalent binding of proteins, antibodies, or other molecules. It can also be used for nucleic acids isolation and purification though the DNA/RNA-silica interaction method created by Boom et al. in 1990, with improved efficiency and simplified operation. The silica magnetic particles are also available with functional protein ligands (avidin, streptavidin, protein A, albumin) or biotin. They can be offered with the nickel(II) chelator nitrilotriacetic acid (NTA) or ready to use with the corresponding nickel complex (Ni-NTA) for the binding of histidine labeled proteins. The magnetic silica particles are available with a hydrophobic octadecyl (C18) surface, and can be delivered with an organic polymer shell (coreshell method) on request.
| Cat. No. | Description | Surface | Diameter | Concentration | Unit Size | Add to basket |
| --- | --- | --- | --- | --- | --- | --- |
| SMP-NM01 | Silica Magnetic Particles | Hydroxyl | 350 nm | 25 mg/mL | 10 mL | |
| SMP-NM03 | Silica Magnetic Particles | Amine | 250 nm | 10 mg/mL | 10 mL | |
| SMP-NM04 | Silica Magnetic Particles | Carboxyl | 250 nm | 10 mg/mL | 10 mL | |
| SMP-NM05 | Silica Magnetic Particles | Hydroxyl | 250 nm | 10 mg/mL | 10 mL | |
| SMP-NM06 | Silica Magnetic Particles | Octadecyl (C18) | 250 nm | 25 mg/mL | 10 mL | |
| SMP-UM02 | Silica Magnetic Particles | Hydroxyl | 1.5 µm | 50 mg/mL | 10 mL | |
| SMP-UM03 | Silica Magnetic Particles | Amine | 1.5 µm | 50 mg/mL | 10 mL | |
| SMP-UM04 | Silica Magnetic Particles | Carboxyl | 1.5 µm | 50 mg/mL | 10 mL | |
| SMP-UM05 | Silica Magnetic Particles | Epoxy | 1.5 µm | N/A | 500 mg | |
| SMP-UM06 | Silica Magnetic Particles | NTA | 1.5 µm | 50 mg/mL | 10 mL | |
| SMP-UM07 | Silica Magnetic Particles | NHS | 1.5 µm | N/A | 500 mg | |
| SMP-UM08 | Silica Magnetic Particles | Avidin | 1.5 µm | 10 mg/mL | 2 mL | |
| SMP-UM09 | Silica Magnetic Particles | Streptavidin | 1.5 µm | 10 mg/mL | 2 mL | |
| SMP-UM10 | Silica Magnetic Particles | Protein A | 1.5 µm | 10 mg/mL | 2 mL | |
| SMP-UM11 | Silica Magnetic Particles | Albumin (BSA) | 1.5 µm | 10 mg/mL | 5 mL | |
| SMP-UM12 | Silica Magnetic Particles | Biotin | 1.5 µm | 25 mg/mL | 5 mL | |
| SMP-UM13 | Silica Magnetic Particles | Ni-NTA | 1.5 µm | 25 mg/mL | 10 mL | |
| SMP-UM14 | Silica Magnetic Particles | Octadecyl (C18) | 1.5 µm | N/A | 500 mg | |
| SMP-UM15 | Silica Magnetic Particles | Hydroxyl | 6 µm | 50 mg/mL | 10 mL | |
| SMP-UM16 | Silica Magnetic Particles | Amine | 6 µm | 50 mg/mL | 10 mL | |