Fluorescent Silver Nanoparticles
Creative Diagnostics provides silver nanoparticles labeled with various fluorophores for multimodal imaging by dark-field scattering and fluorescence microscopy. The fluorophore labeled silver nanoparticles exhibit both the high absorptions and scattering from the nanoparticle and the enhanced fluorescence from the attached fluorophores.
Silver nanoparticles significant enhance the fluorescent signal and quantum yield of fluorophores based on the metal-enhanced fluorescence (MEF) effect. The appropriate distance between the fluorophore and silver nanoparticle results in significant enhancement of fluorescent signal of the linked fluorophores. Our Fluorescent Silver Nanoparticles are advantageous in brighter fluorescence, reduced photobleaching, and compatibility with a wider pH range.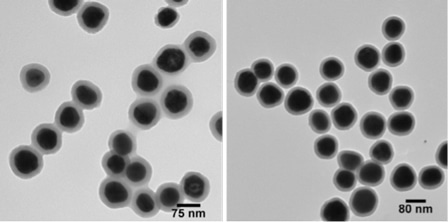 Custom conjugations are also available for your own fluorophores and antibodies, proteins, peptides, lectins, and other molecules. Please do not hesitate to contact us if you need free consultation and a detailed quotation of your project. Our customer service representatives are available 24 hours a day, from Monday to Sunday.
Applications:
Antibacterial agents
Metal-Enhanced Fluorescence (MEF)
Surface Enhance Raman Spectroscopy (SERS)
Dark Field Microscopy
Sensor Development
Diagnostic
Nanotoxicology research
| Cat. No. | Description | Diameter | Absorption Max | Surface | Unit Size | Fluorophore | Add to basket |
| --- | --- | --- | --- | --- | --- | --- | --- |
| SFL-70-1 | FITC Labeled Silver Nanoparticles, Silica-coated | Core 70 nm, shell 20 nm | 479 nm | Hydroxyl | 0.2, 0.5, 1 mL | √ | |
| SFL-70-2 | FITC Labeled Silver Nanoparticles, Silica-coated | Core 70 nm, shell 20 nm | 479 nm | Amine | 0.2, 0.5, 1 mL | √ | |
| SFL-70-3 | FITC Labeled Silver Nanoparticles, Silica-coated | Core 70 nm, shell 20 nm | 479 nm | Streptavidin | 0.2, 0.5, 1 mL | √ | |
| SFL-70-4 | FITC Labeled Silver Nanoparticles, Silica-coated | Core 70 nm, shell 20 nm | 479 nm | Anti-Mouse IgG | 0.2, 0.5, 1 mL | √ | |
| SFL-80-1 | Rhodamine B Labeled Silver Nanoparticles, Silica-coated | Core 80 nm, shell 20 nm | 495 nm | Hydroxyl | 1, 5, 10, 25 mL | √ | |
| SFL-80-2 | Rhodamine B Labeled Silver Nanoparticles, Silica-coated | Core 80 nm, shell 20 nm | 495 nm | Amine | 1, 5, 10, 25 mL | √ | |
| SFL-80-3 | Rhodamine B Labeled Silver Nanoparticles, Silica-coated | Core 80 nm, shell 20 nm | 495 nm | Streptavidin | 1, 5, 10, 25 mL | √ | |
| SFL-80-4 | Rhodamine B Labeled Silver Nanoparticles, Silica-coated | Core 80 nm, shell 20 nm | 495 nm | Anti-Mouse IgG | 1, 5, 10, 25 mL | √ | |