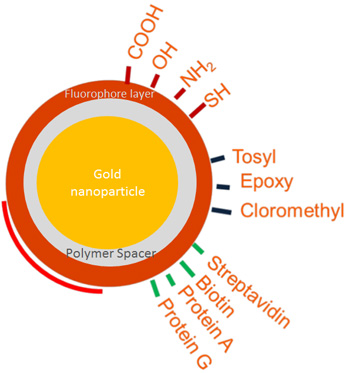 Creative Diagnostics provides Fluorescent Gold Nanoparticles (AuNPs) labeled with various fluorophores for multimodal imaging by dark-field scattering, fluorescence, as well as electron microscopy. The fluorophore labeled gold nanoparticles exhibit both high absorptions and scattering from gold nanoparticle as well as enhanced fluorescence from the attached fluorophores. Gold nanoparticles significant enhance the fluorescent signal and quantum yield of fluorophores based on the metal-enhanced fluorescence (MEF) effect.
These nanoparticles are available with the following fluorophores, IRDye 800, Alexa Fluor 750, Alexa Fluor 680, Cy5.5, Alexa Fluor 647, Cy5, Alexa Fluor 633, Alexa Fluor 594, Texas Red, Alexa Fluor 546, Alexa Fluor 555, FITC, Alexa Fluor 488.
Various active groups or ligands can be chosen according to customer's need, including amine, biotin, carboxyl, maleimide, methyl, neutravidin, NHS, streptavidin, MUTAB, protein A and secondary antibodies. PEG or proprietary polymer is used as covalent polymer bridge to the most popular in vitro terminations. For in vivo surface terminations, a proprietary long circulating polymer would give the gold nanoparticles ultra-long circulation time.
The fluorophore labeled AuNPs are supplied in distilled water, PBS, Tris, Sodium Borate or MES; Other custom buffers are also available on request.
Creative Diagnostics also offers a series of fluorophore labeled AuNPs with specific cellular uptake ligands to promote cellular uptake. These gold nanoparticles are non-toxic, suited for in vivo application.
Custom conjugations are available for special fluorophores, functional surfaces and molecules, such as antibodies, proteins, peptides, lectins, etc.
Please do not hesitate to contact us if you need free consultation and a detailed quotation of your project. Our customer service representatives are available 24 hours a day, from Monday to Sunday.
Applications:
Dual modal imaging by fluorescence and electron microscopy
Increased fluorescence signal and higher quantum yield
Increased stability in a wider pH range
Lower background and higher signal-to-noise ratios
Multiplex imaging for different targets using different fluorophores
| Cat. No. | Description | Diameter | Absorption Max | Surface | Unit Size | Fluorophore | Add to basket |
| --- | --- | --- | --- | --- | --- | --- | --- |
| GFL-1.8-NU | Fluorescent Gold Nanoparticles, Nuclei Uptake | 1.8 nm | N/A | Optional | 1 mL | √ | |
| GFL-10 | Fluorescent Gold Nanoparticles | 10 nm | 514-520 nm | Optional | 1 mL | √ | |
| GFL-100 | Fluorescent Gold Nanoparticles | 100 nm | 558 nm | Optional | 1 mL | √ | |
| GFL-10-CU | Fluorescent Gold Nanoparticles, Cellular Uptake | 10 nm | 514-520 nm | Cellular uptake ligand | 1 mL | √ | |
| GFL-125 | Fluorescent Gold Nanoparticles | 125 nm | 600 nm | Optional | 1 mL | √ | |
| GFL-15 | Fluorescent Gold Nanoparticles | 15 nm | 514-520 nm | Optional | 1 mL | √ | |
| GFL-150 | Fluorescent Gold Nanoparticles | 150 nm | 612 nm | Optional | 1 mL | √ | |
| GFL-15-CU | Fluorescent Gold Nanoparticles, Cellular Uptake | 15 nm | 514-520 nm | Cellular uptake ligand | 1 mL | √ | |
| GFL-2.2-NU | Fluorescent Gold Nanoparticles, Nuclei Uptake | 2.2 nm | N/A | Optional | 1 mL | √ | |
| GFL-20 | Fluorescent Gold Nanoparticles | 20 nm | 514-520 nm | Optional | 1 mL | √ | |
| GFL-200 | Fluorescent Gold Nanoparticles | 200 nm | N/A | Optional | 1 mL | √ | |
| GFL-20-CU | Fluorescent Gold Nanoparticles, Cellular Uptake | 20 nm | 514-520 nm | Cellular uptake ligand | 1 mL | √ | |
| GFL-25 | Fluorescent Gold Nanoparticles | 25 nm | 514-520 nm | Optional | 1 mL | √ | |
| GFL-25-CU | Fluorescent Gold Nanoparticles, Cellular Uptake | 25 nm | 514-520 nm | Cellular uptake ligand | 1 mL | √ | |
| GFL-30 | Fluorescent Gold Nanoparticles | 30 nm | 523 nm | Optional | 1 mL | √ | |
| GFL-30-CU | Fluorescent Gold Nanoparticles, Cellular Uptake | 30 nm | 523 nm | Cellular uptake ligand | 1 mL | √ | |
| GFL-35 | Fluorescent Gold Nanoparticles | 35 nm | 526 nm | Optional | 1 mL | √ | |
| GFL-35-CU | Fluorescent Gold Nanoparticles, Cellular Uptake | 35 nm | 526 nm | Cellular uptake ligand | 1 mL | √ | |
| GFL-3-NU | Fluorescent Gold Nanoparticles, Nuclei Uptake | 3 nm | N/A | Optional | 1 mL | √ | |
| GFL-40 | Fluorescent Gold Nanoparticles | 40 nm | 527 nm | Optional | 1 mL | √ | |
| GFL-40-CU | Fluorescent Gold Nanoparticles, Cellular Uptake | 40 nm | 527 nm | Cellular uptake ligand | 1 mL | √ | |
| GFL-45 | Fluorescent Gold Nanoparticles | 45 nm | 529 nm | Optional | 1 mL | √ | |
| GFL-45-CU | Fluorescent Gold Nanoparticles, Cellular Uptake | 45 nm | 529 nm | Cellular uptake ligand | 1 mL | √ | |
| GFL-5 | Fluorescent Gold Nanoparticles | 5 nm | 505-508 nm | Optional | 1 mL | × | |
| GFL-50 | Fluorescent Gold Nanoparticles | 50 nm | 531 nm | Optional | 1 mL | √ | |
| GFL-50-CU | Fluorescent Gold Nanoparticles, Cellular Uptake | 50 nm | 531 nm | Cellular uptake ligand | 1 mL | √ | |
| GFL-55 | Fluorescent Gold Nanoparticles | 55 nm | 533 nm | Optional | 1 mL | √ | |
| GFL-60 | Fluorescent Gold Nanoparticles | 60 nm | 536 nm | Optional | 1 mL | √ | |
| GFL-65 | Fluorescent Gold Nanoparticles | 65 nm | 539 nm | Optional | 1 mL | √ | |
| GFL-70 | Fluorescent Gold Nanoparticles | 70 nm | 542 nm | Optional | 1 mL | √ | |
| GFL-75 | Fluorescent Gold Nanoparticles | 75 nm | 545 nm | Optional | 1 mL | √ | |
| GFL-80 | Fluorescent Gold Nanoparticles | 80 nm | 549 nm | Optional | 1 mL | √ | |
| GFL-85 | Fluorescent Gold Nanoparticles | 85 nm | 553 nm | Optional | 1 mL | √ | |
| GFL-90 | Fluorescent Gold Nanoparticles | 90 nm | 558 nm | Optional | 1 mL | √ | |
| GFL-95 | Fluorescent Gold Nanoparticles | 95 nm | 558 nm | Optional | 1 mL | √ | |